The Chiefs bounced back in Week 2, and so did I with my five over/under total bets.
It wasn't easy, but I'm back on the winning side after posting a 4–1 record last week. I'm still mad at the Chargers and Titans for preventing me from having a perfect weekend after my under bet ticket was shredded to pieces the same way … never mind. I'll be nice to the L.A. and Tennessee defenses.
No need to dwell on the one loss after having a 2–3 record in Week 1. But then again, someone might have had a five-team parlay based on my over/under total bets from Week 2. The payout could have been a downpayment for a beach house in the Los Angeles area. Wait, that's my dream, but anyway. Let's continue making money. 
​​Here are the five best over/under bets for NFL Week 3 (all total numbers are from SI Sportsbook). 
1. Broncos at Dolphins
Over/Under: 48.5
Prediction: Over
There's a bit of mystery here because you don't know which Denver offense you'll get in Miami this week. After scoring only 16 points vs. a poor Raiders defense in the season opener, the Broncos followed by dropping 33 points in the loss against the Commanders. Expect the winless Broncos to maintain a rhythm offensively and even get a few garbage-time touchdowns after falling behind double digits vs. the Dolphins' explosive offense. Miami will likely find the end zone often after Denver allowed Sam Howell and the Commanders to score 35 points in Week 2. Also, the Dolphins' defense has struggled so far this season, so expect the Broncos to do their part for this over bet.
2. Texans at Jaguars
Over/Under: 44.5
Prediction: Over
Look for the Jaguars to have a bounce-back performance after Trevor Lawrence and his many weapons were shut down against the Chiefs in Week 2. DeMeco Ryans's Houston defense is off to a rough start after allowing a combined 56 points against the Ravens and Colts the past two weeks. Backup Gardner Minshew picked apart the Texans after he filled in for the injured Anthony Richardson. Again, expect a get-right performance from the Jaguars' offense. But don't sleep on rookie quarterback C.J. Stroud and his Texans offense. Yes, they've had uneven performances, but Stroud might have found his stride after recording 384 passing yards for two touchdowns against the Colts. He's had plenty of success throwing to Nico Collins and rookie Tank Dell this season.
3. Chargers at Vikings
Over/Under: 54.5
Prediction: Over
I got burned last week thinking the Chargers' defense would play better against Titans quarterback Ryan Tannehill, who torched them downfield for an average of 10.3 yards per completion. The Chargers won't fool me twice with under bets. I'm going to ride the over wave with Brandon Staley's defense until they show improvements, which likely won't occur Sunday against Vikings quarterback Kirk Cousins, wide receivers Justin Jefferson and Jordan Addison and tight end T.J. Hockenson. This is my lock of the week. Both teams are winless and both are desperate. Fireworks will occur in Minnesota.
4. Cowboys at Cardinals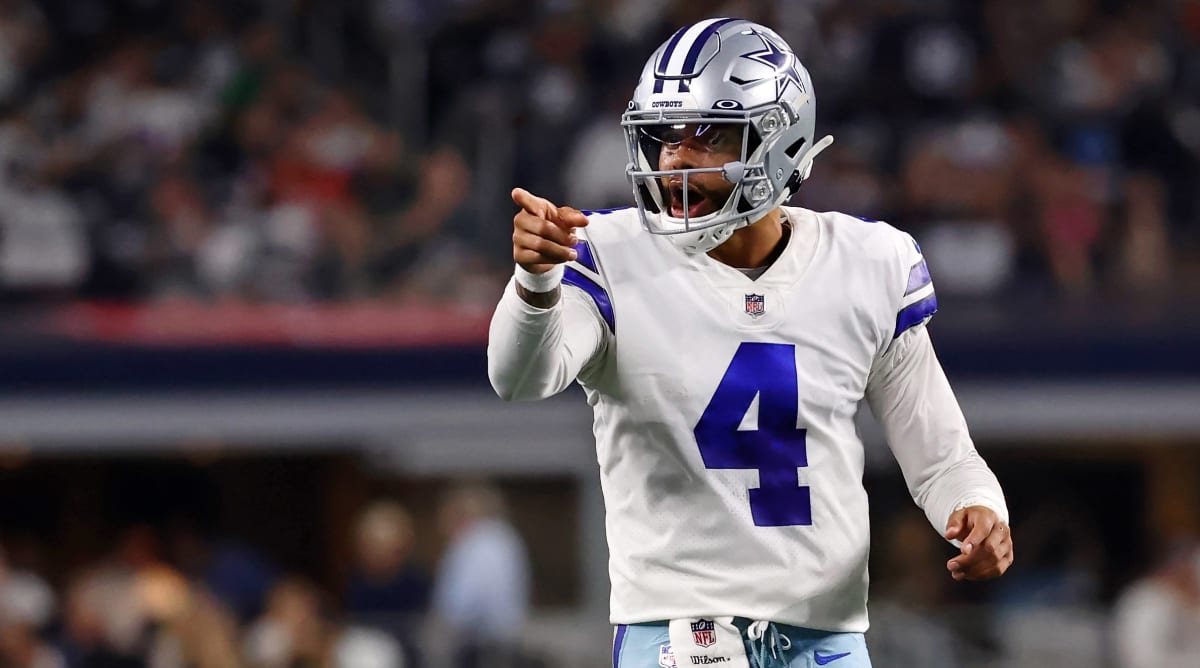 Over/Under: 43.5
Prediction: Under
The Cardinals were competitive in their losses to the Commanders and Giants the past two weeks, but I don't see that happening against the Cowboys, who are stacked on both sides of the football. I'm not saying the Cowboys will embarrass the Cardinals the same way they did with the Giants during the 40–0 Week 1 victory, but this one might be over by the second quarter. I already got an early copy of the game script. The Cowboys will score two defensive touchdowns early and run the ball several times to cruise to a 27–10 victory in Arizona. Or maybe my game script changes last minute, but it's not looking promising for the Cardinals.
5. Eagles at Buccaneers
Over/Under: 45.5
Prediction: Under
The undefeated Buccaneers have been one of the most surprising teams of the young season with a stout defense and an offense that's making enough plays with new starting quarterback Baker Mayfield, who hasn't thrown an interception through two games. But expect Mayfield to run into trouble against the Eagles' ferocious defensive front—Philadelphia forced Minnesota into four turnovers last week. As for the Eagles' offense, they have had trouble establishing a rhythm through the air and might be forced to remain conservative against a very good Buccaneers' defense that's only allowing an average of 17 points per game. Jalen Hurts and Mayfield will probably have a tough time generating points in Week 3.