This is an archived article and the information in the article may be outdated. Please look at the time stamp on the story to see when it was last updated.
Introduction to magnet fishing
There are plenty of ways to go fishing. It is one of the oldest methods of bringing a meal ashore, from standing on the shore with a 10-foot rod to wading in calm waters while whipping a fly fishing rod back and forth.
But one type of fishing has become more popular over the last few years: magnet fishing. However, there is a big difference between catching fish and magnet fishing. There is only one rule: If you manage to hook and reel in a scaled aquatic creature, you're doing it wrong.
What to know before you go magnet fishing
The basics
While you still have a fishing line, no hooks or bait are on it. In fact, you don't even use a fishing rod. Magnet fishing is the term for searching ponds, lakes and rivers for metallic objects with a powerful magnet attached to a durable rope.
You can either stand on the shore and fling the magnet as far as possible or take to the water on a small boat and trawl the magnet until it attaches to an object. Once it snags something, you must pull the rope to retrieve what's attached to the magnet.
Equipment you'll need
The two most important pieces of magnet fishing are the long, high-strength nylon rope and the magnet. But this isn't the type of magnet you use to stick photos on your fridge. It is industrial-strength, made from several protective layers and can lift a few hundred pounds. There are different varieties of fishing magnets, and the size and strength depend on what you are hoping to find.
The rope is similar to rock climbing rope, as it has a high weight limit that would exceed anything you could find in a lake. The length of the rope isn't crucial, but it does have to reach the bottom of the water. This is less important when magnet fishing from the shore, as the magnet will always sink to the bottom, but the length is vital when fishing from a boat.
Biggest finds
Plenty of videos online show all kinds of objects that lucky fishers pulled out. Especially popular around battlegrounds or areas of historical value, some treasure hunters have retrieved World War II weapons, ancient coins, medals and other valuable items.
One of the most amazing finds was an ancient dagger from the Middle East, found in a river in England in 2017. Another struck it rich in 2020 by finding two safes in one day that contained bracelets, necklaces, a pocket watch and even some gold.
But magnet fishing comes with a few risks, too. Not only are the magnets powerful enough to crush your fingers, you might bring something to the surface that can be deadly. This happens regularly in areas that saw heavy WWII fighting, as German magnet fishers regularly bring up live grenades, loaded weapons and rounds of ammunition.
Most common finds
Before you get into magnet fishing, remember that you're not going to get filthy rich on your first try — or ever. It takes a lot of dedication and knowing where to hunt, and you might never find anything valuable.
For all the fantastic objects, there are thousands of mundane pickups. The most common objects retrieved from water include nuts and bolts, screws and nails, cutlery and tools. Occasionally you might find scrap pipes, or modern coins if the magnetic content is high enough.
In an ironic twist, the chances are good that you bring in discarded fishing tackle, such as hooks and lures.
What you need to buy for magnet fishing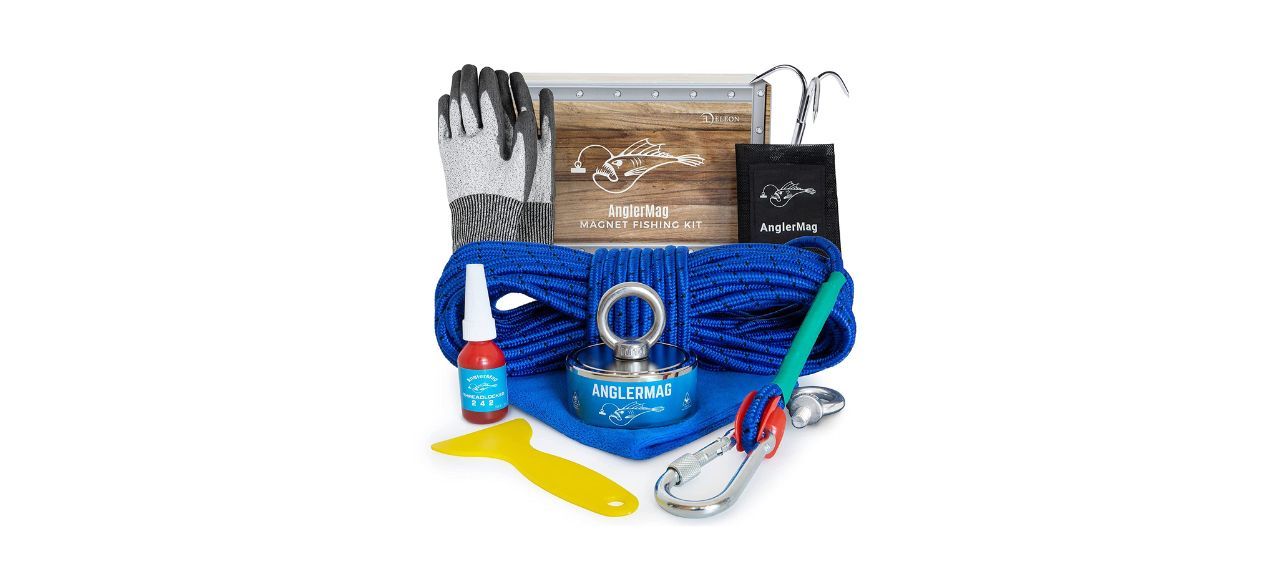 Perfect if you are just getting started, this kit contains a 2.9-inch magnet with a pull force of 1,250 pounds and a 60-foot nylon paracord rope. It also comes with a three-prong hook to bring non-magnetic items to the surface, cut-resistant safety gloves, a plastic scraper and a microfiber cloth.
Where to buy: Sold by Amazon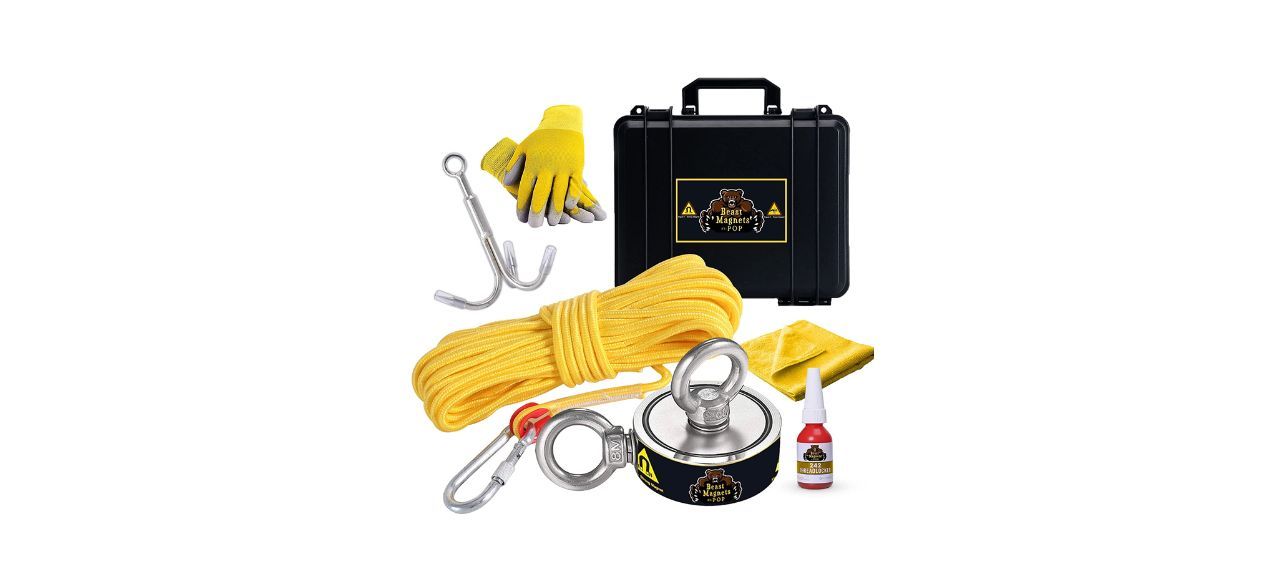 Platinum Complete Magnet Fishing Kit
This complete kit contains a double-sided 3-inch magnet with a maximum pull force of 1,320 pounds and a 65-foot nylon rope. It also comes with ThreadLocker glue, a microfiber cloth, a three-prong hook, cut-resistant safety gloves and a robust plastic carry case.
Where to buy: Sold by Amazon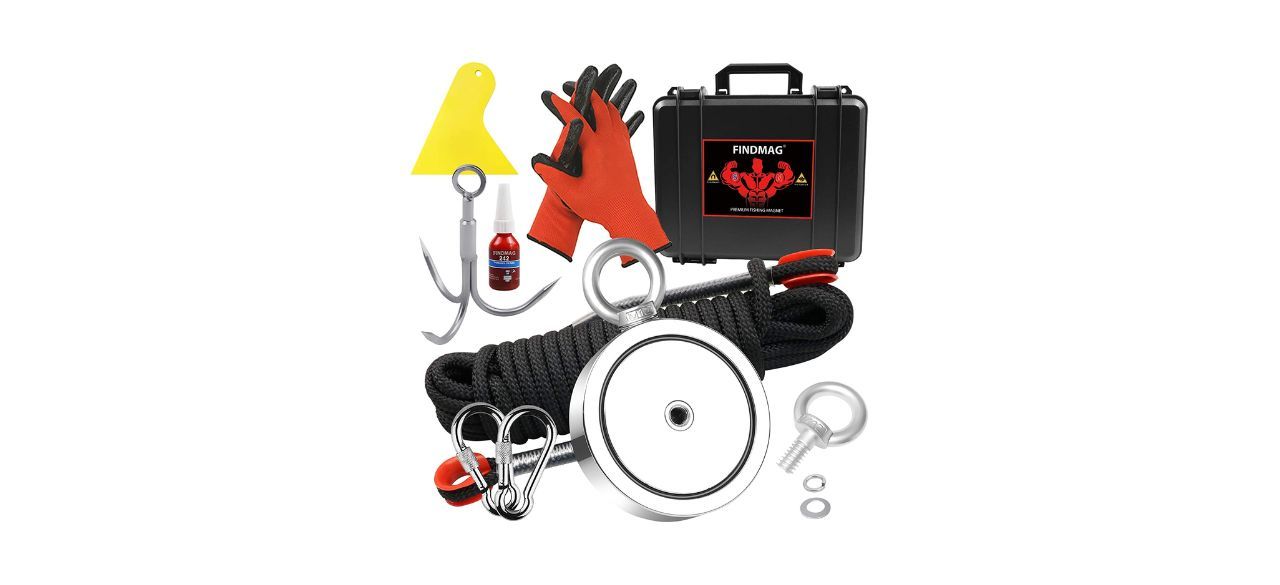 This kit is the ultimate for serious magnet fishermen. It contains the strongest 4.5-inch diameter and 1.25-inch thick magnet, with a pull force of 2,625 pounds. It includes a 50-foot nylon rope, safety gloves, a three-prong hook and a plastic carry case.
Where to buy: Sold by Amazon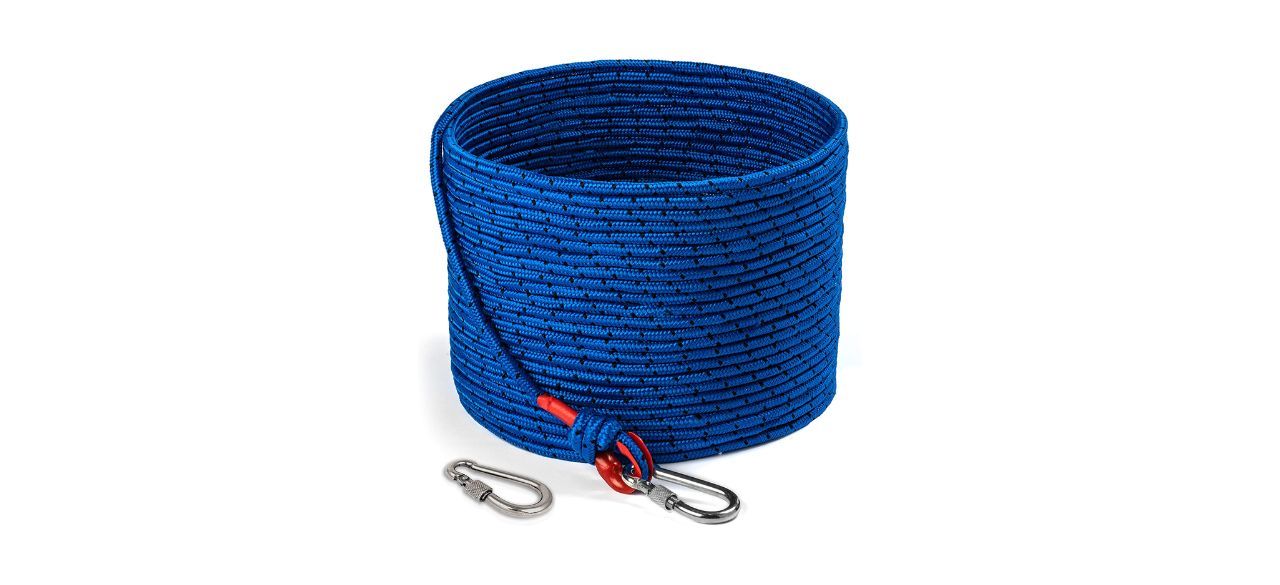 Loreso Strong Magnet Fishing Rope
This is an excellent option if you already have a powerful magnet but need a longer rope. The 65-foot heavy-duty line has a maximum pull force of 1,200 pounds, a reinforced polyester line on the inside, and a third of an inch thick.
Where to buy: Sold by Amazon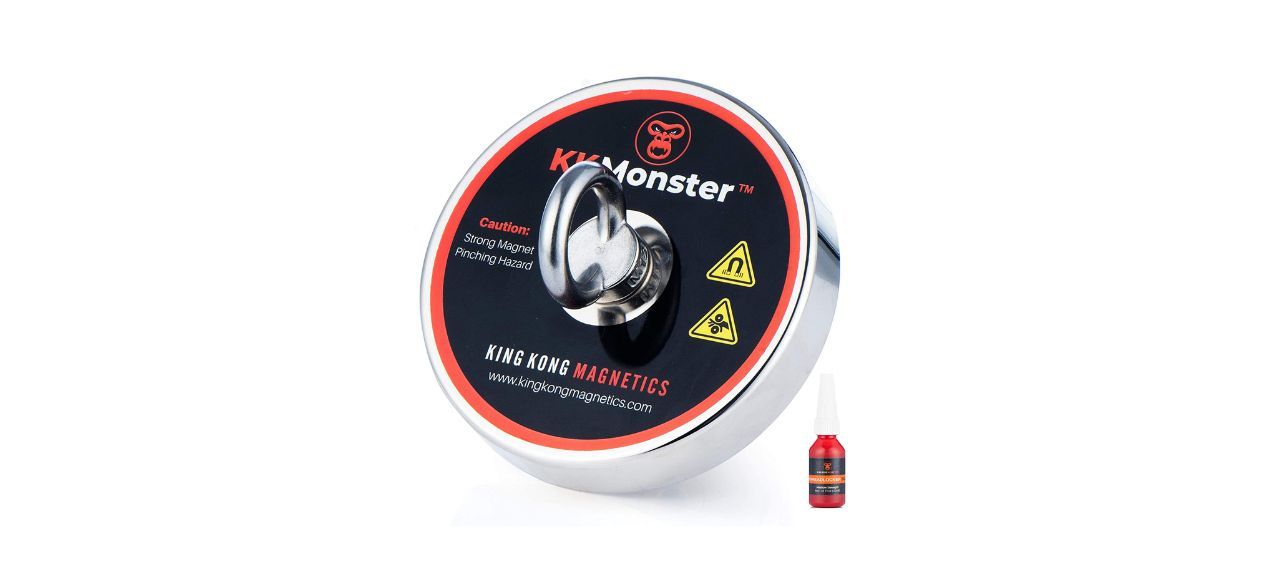 King Kong Magnetics Strong Neodymium Fishing Magnet
This is a great option if you need a stronger magnet or want to attach an additional one. The magnet has a maximum pull force of 1,900 pounds, weighs almost 7 pounds and comes with ThreadLocker glue to ensure it remains tight.
Where to buy: Sold by Amazon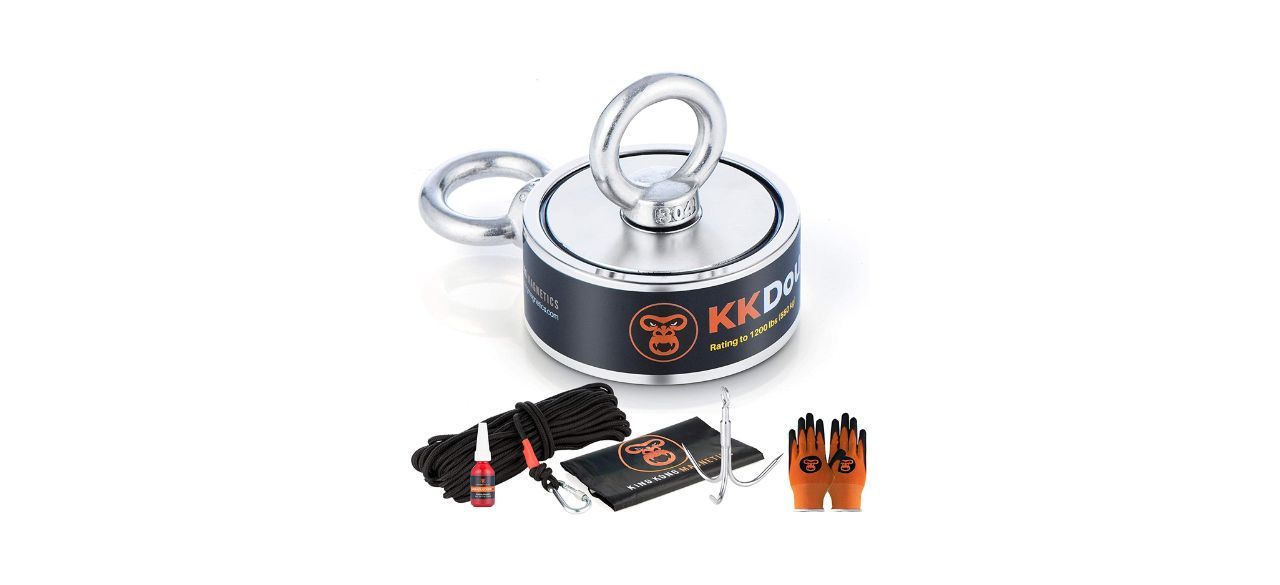 King Kong Magnetics 1200 Pounds Pulling Force Magnet Fishing Kit
The double-sided 3-inch magnet is part of a fishing kit with a 65-foot nylon rope and safety gloves. The magnet has a pull force of 1,200 pounds, secures to the rope with a heavy-duty carabiner, and is held in place with ThreadLocker glue.
Where to buy: Sold by Amazon
Want to shop the best products at the best prices? Check out Daily Deals from BestReviews.
Sign up here to receive the BestReviews weekly newsletter for useful advice on new products and noteworthy deals.
Charlie Fripp writes for BestReviews. BestReviews has helped millions of consumers simplify their purchasing decisions, saving them time and money.
Copyright 2023 BestReviews, a Nexstar company. All rights reserved.