EIN Presswire | Newsmatics
World Literacy Summit to Discuss Teacher-Led Solutions to the Literacy Crisis
News provided by
EIN Presswire
Jan 24, 2023, 9:30 AM ET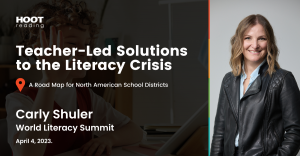 Hoot Reading, a leading online literacy tutoring service, to present research, Teacher-Led Solutions to the Literacy Crisis, at the World Literacy Summit.
CANADA, January 24, 2023 /
EINPresswire.com
/ -- After two years of online schooling, school districts are seeking solutions to improve devastatingly low reading scores. Pandemic learning loss, and the literacy crisis it has worsened, are directly linked to systemic barriers and inequities. For example, students from low socioeconomic communities are twice as likely to read below grade level in Canada.
Elementary school teachers have been on the front lines detecting problems, innovating solutions, and advocating for their students' needs. Hoot Reading, an online literacy tutoring service,
surveyed 525 elementary school teachers
to identify evidence-based and teacher-favoured solutions to tackle pandemic learning loss and improve literacy outcomes for students across North America.
Hoot Reading Co-Founder, Carly Shuler, will present the findings at the World Literacy Summit at Oxford University on April 4, 2023. The World Literacy Summit is the largest gathering of literacy experts, bringing together leaders from 85 countries representing over two-thirds of the world's population. Leaders attending the summit come from diverse backgrounds and sectors with one common goal: Advocating and championing the importance of improving literacy levels across the globe.
Shuler's presentation will highlight research, challenges, and solutions to help educational leaders prioritize teachers in their learning recovery efforts.
Sharing the urgent need to prioritize teachers in learning recovery efforts
A staggering 97% of teachers surveyed reported that they require additional teaching support to help their students achieve grade-level reading. This response was consistent with teachers across geographic boundaries, school types, and grade levels taught. The majority of teachers also indicated their schools faced burnout (87%) and staffing shortages (84%).
Teacher-led solutions can help districts accelerate learning
The #1 teacher-recommended resource to help students achieve grade-level reading was 1:1, teacher-led tutoring. Research proves that teacher-led tutoring sessions provide the highest ratio of learning outcomes. Unlike tutors, teachers require specialized training and pedagogical knowledge that gives them a greater ability to tailor and deliver content to students.
The problem? Only 16% of teachers surveyed had the capacity to complete 1:1 tutoring with all of their students.
Improving equitable access to teachers
Both survey respondents and research overwhelmingly conclude: To accelerate learning, we must improve equitable access to teachers and evidence-based, 1:1 tutoring. By combining the scalability of technology with the pedagogical expertise of teachers, we can remove barriers to evidence-based literacy instruction and bring qualified teachers to underserved communities for individualized reading programs.
About Hoot Reading
Hoot Reading is the leading online tutoring service providing 1:1, evidence-based literacy instruction with qualified teachers. Incubated on a research project at the Nokia Research Lab with Sesame Workshop (the creators of Sesame Street) and the Joan Ganz Cooney Center, Hoot Reading partners with school districts across North America to change children's lives through literacy. Visit
www.hootreading.com
to learn more.
Melanie Rodriguez
Hoot Reading
melanie@hootreading.com
Visit us on social media:
Facebook
Twitter
LinkedIn
Instagram
For inquiries or corrections to Press Releases, please reach out to EIN Presswire.